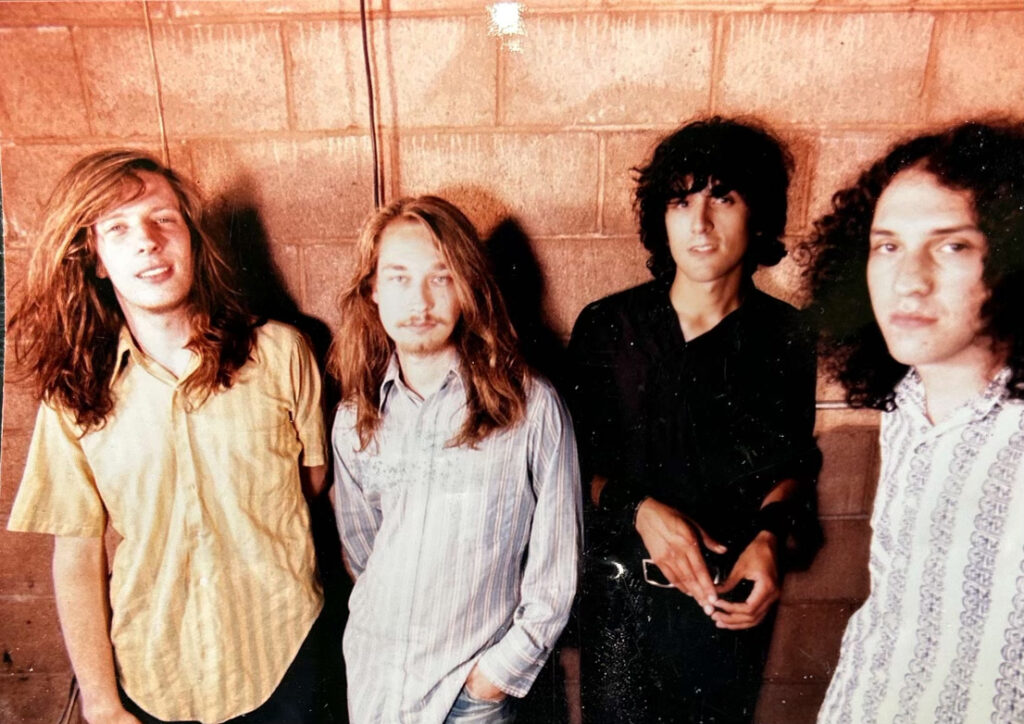 We are beyond stoked to announce that we'll be releasing a deluxe, reissue of the legendary Das Damen's debut ep, titled 1986: It Keeps Me Wild. Newly remastered and augmented with an array of previously unreleased demos, reimagined tracks, and a brand-new issue of drummer Lyle Hysen's legendary fanzine Damaged Goods (featuring a comprehensive timeline, show flyers, oral history, testimonials from Tom Scharpling, Thurston Moore and more), the LP will be released digitally on Friday, September 8, with deluxe vinyl and digital download available in October. Pre-saves and preorders are available now.
In addition to two never-before-heard demos, It Keeps Me Wild is highlighted by reworked versions of cuts culled from the EP's original 1986 recording sessions, featuring new contributions from such friends and fans as Dez Cadena (Black Flag), Thalia Zedek (Come, Live Skull), Gary Lee Conner (Screaming Trees), John Robinson (The Fluid), and A Girl Called Eddy. A video for the song "Trick Question," directed by Dave Rygalski, is streaming now on YouTube.
"When we got the tapes baked several years ago, upon listening to them we discovered we had a few unfinished alternate takes from the original EP sessions," says drummer Lyle Hysen. "We didn't feel we could bring the same 1986 enthusiasm to finishing the tapes, but by bringing in a few people who we respect or are pals from back then, the re-imaginings would have a new energy of their own."

"In the spring of 1991, we did our first US tour as a major label band after the release of Uncle Anesthesia," says Screaming Trees' guitarist Gary Lee Conner. "As the tour began, chaos ensued. A van wreck that should have been fatal led to Mark Lanegan falling off the wagon to start drinking again after nearly six years sober. My brother Van and our drummer at the time, Dan Peters, enthusiastically joined in the alcoholic debauchery which began in Chicago and ended the tour prematurely in Pensacola, Florida a month later. Our good friends and former label mates Das Damen were the opening band for most of the tour. Watching them play every night kept me sane. They have some of my all-time favorite songs, like 'Grey Isn't Black' and 'Bug.' Now I even get to play on one of their songs. Pretty fucking cool!"

Das Damen will mark the release of 1986: It Keeps Me Wild with their first live date in more than 30 years. The one-time-only performance is set for Drom30, Dromedary Records' weekend-long celebration of independent rock in New York's beautiful Hudson Valley, on Saturday, September 16.
Founded in 1984 by singer/guitarist Jim Walters, guitarist Alex Totino, eight-string bassist Phil Leopold Von Trapp, and drummer Lyle Hysen, Das Damen immediately proved themselves to be the electric children of the Stooges, MC5, Cheap Trick, and the Beatles, whipping up a glorious cosmic swirl of stadium-sized proportions that flattened East Village clubs while earning them a hardcore following of devoted fans across America and around the world. Originally released on Sonic Youth co-founder Thurston Moore's Ecstatic Peace! imprint in 1986 (and later reissued by SST Records), DAS DAMEN remains an earth-scorching touchstone in the downtown NYC underground movement and a milestone recording in the annals of American indie rock. The six anthemic songs contained therein remain as fist-pumpingly huge and evocative as ever, dripping with the grit, grime, chaos, and sludge of the 1980s downtown scene where the band members first converged as fledgling teenage punks attending New York University. But while Das Damen certainly shared an affinity for jacked-to-11 amps and ear-busting volume akin peers like Sonic Youth and Dinosaur Jr., songs like "Trick Question," "Slave Bird" and "How Do You Measure" stand alone with otherworldly singalong harmonies, tasty hooks, monster riffs, and miles and miles of paisley-draped, hair-exploding style.
Originally recorded with iconic noise-rock producer Wharton Tiers (Sonic Youth, Glenn Branca, Pussy Galore) in the narrow, concrete-lined confines of his famed Fun City Studios in NYC, the EP's ecstatic maelstrom expertly mirrored the tension, frenzy and white noise that earned Das Damen a reputation as a mind-blowingly epic live band, as heard on tours alongside Nirvana, Soundgarden, Black Flag, Green River, Screaming Trees, and DC3, amongst other like-minded luminaries. Remastered from the original Ecstatic Peace! tapes by Sean Glonek at SRG Studios and overseen by Walters, Hysen, and best-selling author/producer Tom Beaujour (Guided by Voices, Juliana Hatfield Three, Nada Surf), the new mix of DAS DAMEN brings a fresh layer of sheen even as it retains the signature primitive din that was the band's trademark, its Stooges-on-speed rippers rife with King Crimson-esque time signature intricacies. Almost four decades after its explosive arrival, DAS DAMEN remains as thrilling, explosive, and forward-looking as ever before.
(Photo: Naomi Petersen, courtesy of Chis Petersen Images/Punk Life Naomi)