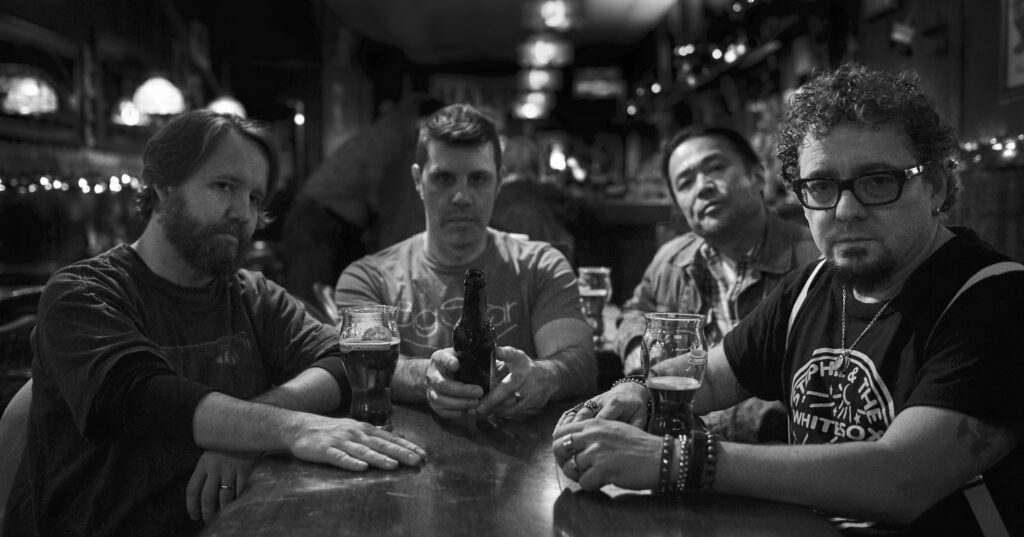 Disparate elements of pop, glam, garage and punk come together in Tenterhooks' sound.
Fronted by Lenny Zenith, Tenterhooks is one of few transgender-led bands.  Veteran bass player James Pertusi, multi-faceted guitarist Hiro Suzuki and powerhouse drummer Scott Campbell round out the band.  Tenterhooks' 2013 debut gig at Hank's Saloon in Brooklyn was SRO, and attendees were incredulous that it was the band's first show.  Their volatile, raw sets yielded propulsive indie pop with a punch.
Zenith began playing in New Orleans in his 20s, fronting several bands including RZA and Mink Bikini, and opening for major acts.
Throughout the 90s, Zenith and Pertusi were in NYC's critically-acclaimed noise pop band Jenifer Convertible, whose releases – including 7″ single "Car Song/Co-Dependency," produced by James Murphy (LCD Soundsystem) and a CD entitled Wanna Drag?, produced by Wharton Tiers (Sonic Youth, Dinosaur Jr.) were well-received.
Recently profiled on Vice.com, Zenith will also be featured in the documentary film about the early New Orleans punk scene entitled Almost Ready.
Pertusi produced and engineered Tenterhooks' debut EP at [the end] studios in Greenpoint, Brooklyn (Kaiser Chiefs, Dirty Projectors), and released in 2015, Meanwhile in Another Part of Town was Tenterhooks' only release. Zenith has gone on to found Xyyx Records, a label that works to provide a platform for trans and nonbinary artists.