Pinch hitting for our pals in Monsterland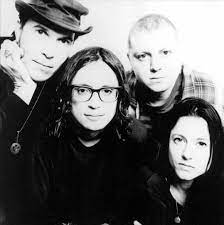 Late last week we received a phone call we were dreading: our pals in Monsterland had to drop off the lineup for the Drom30 festival. Nothing serious, but some last-minute, uncancelable obligations came up and they had to drop.
Coordinating an event that spans three days with 19 performers, a bunch of DJs and five different locations, I sort of anticipated that there would be some sort of snag – somewhere – but losing Monsterland really bummed me out. Suffice to say they were the second band I asked (Stuyvesant was the first), and the first to confirm, and I was really looking forward to hearing them blast out some of my favorite songs ever, as they're truly one of my favorite bands.
Regrouping, I was reminded that just the week before, I became aware that NYC indie rockers Madder Rose had just dropped a brand-new album. No One Gets Hurt Ever was released on August 4, their first record since 2019's To Be Beautiful. I searched around, looking for any sign of a tour or a release party and found nothing.
So I held my breath and fired off an instant message via social media.
Within a few hours I'd received a response from guitarist Billy Cote', asking a few questions. And while I slowly fell in love with No One Gets Hurt Ever, we worked out the details and Madder Rose officially agreed to join the bill! They'll appear in Monsterland's slot at the Avalon on Sunday night.
Billy told me this week that it'll be Madder Rose's first show in 24 years with this original lineup. That's pretty exciting, and I am beyond thrilled to be able to add a band of this caliber to our little party.